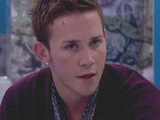 JJ has urged John James to learn from the upset he has caused ex-housemates Nathan and Rachael.
Following his decision to
remain
in the house after Nathan insisted that there were "no hard feelings" between them over comments he made upon Rachael's return, the Australian housemate took a spot on the sofas with JJ to discuss their Diary Room phone call in further detail.
"He was pretty much exactly how I remembered him, I didn't have a bad word to say to him personally." John James said. "Obviously I wasn't to know that she was his missus, but that doesn't take back [what I said]."
"[I don't think] you're a malicious and nasty person - I just think sometimes you get carried away when you're in a conversation like that," JJ weighed in. "Hopefully you'll just realise that there's some things that aren't cool man.
"Some things people don't deserve to be called. Just to get nasty like that, I don't think that's your character."
John James accepted his friend's honest critique and added that he would like to see his encounter with Rachael again to see how it came across from an objective standpoint.
The pair then began speculating who would be evicted tomorrow, with both boys agreeing that they could leave the house.
"I'll definitely go off the back of this," John James concluded. "It definitely hasn't helped. I think it's a foregone conclusion. I'm not gonna lie, I don't care."