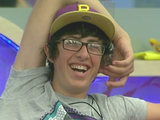 Housemates have been predicting who will survive eviction tomorrow to become one of the final five in Tuesday's live Big Brother final.
The conversation began after most housemates, including John James, said that they believed he would no longer last until the final next week.
"I'll be the first name called," John James declared after revealing that Rachael had warned him that he would have lost a lot of fans because of their argument yesterday.
"This is who's going to be in the final; Josie, Mario, Andrew, John James and then one mystery," Sam predicted.
JJ seemed surprised that Sam believed John James would stay, claiming: "I did think John James but not after yesterday."
John James explained that he thought Mario would be one of the last few in the house and Sam agreed, suggesting that Mario would come second to Josie in the final.
While the two continued to speak on their own, John James revealed that if Corin survived tomorrow he would rather be evicted as he wouldn't be able to stand another four days in the house with her.