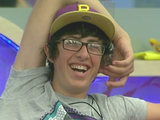 George Lamb
has said that Sam entering the Big Brother compound has been the best part of the show's final series.
The Big Brother's Little Brother presenter admitted that Sam is his favourite housemate, because too many of the other contestants have been "a bit boring".
Lamb told
Heat
: "I'd say Sam Pepper coming into the house was the shake-up that we needed. He's said all the things we've all been screaming at the telly for the last few months.
"But he's treading a very fine line - I can't work out whether I can't stand him or I really like him."
He added: "He was borderline pain-in-the-arse until Corin gave him a slap and he calmed down. Everyone seems to have taken him on as their annoying little brother.
"What I really like about him is his honesty - everyone else goes in trying to give off the right vibe so that they don't get nominated, but he doesn't really give a damn."
Asked if he would move to Five to front BBLB should the programme be given
a reprieve
by the broadcaster, Lamb said: "If that happens and they do take Little Brother then it's definitely a conversation we would have.
"It's been a big part of my life and I'm not going to slam the door shut on it all. Who knows what will happen? Who knows if they'll even want me?"