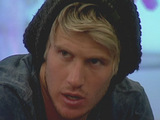 John James has discussed his dispute with former housemate Rachael, after threatening to leave the house last night when he believed Big Brother purposely stitched him up with her visit.
Josie had asked John James why he didn't like Rachael and if he would have gotten on with her better in the outside world.
"I wouldn't speak to her. I don't go out of my way to upset anyone - as much as people think," the Australian answered. "I don't think I'm disrespectful towards women, I think I'm just disrespectful towards everyone.
"It's not women, it's whoever upsets me in general. I think women tend to upset me more than men, that's something I've noticed in here. I'm not sexist or anything like that."
Josie claimed that she felt she annoyed the Australian "a bit" but John James pointed out that she was more of a "tomboy" and the two agreed that Rachael was a "girly girl".
"Girly girls, yeah they annoy me. Not all girly girls 'cause I've got some girly girls as friends. Sometimes I think, 'Oh my God, are you serious?'" John James added.
The conversation later turned to John James's encounter with the Beyoncé lookalike yesterday.
"Maybe I'm exaggerating on how bad it was, I said to her really sarcastic, 'Did you do
Nuts
magazine? And she was like, 'Yeah 'cause that's all I came on for'," he said.
"Then she said, 'Oh you never really gave me a chance'. I said, 'I didn't really like the stares you used to give'. I was only joking, I didn't care - I meant it but I didn't care, but not enough to go at her for it."
John James explained that he felt Rachael had been told what to say to purposely wind him up and he had tried laughing off the situation.
"She said, 'You're going all tense'. She said, 'Maybe I'm ruffling your feathers'. I thought this is what she's been told to say," he described.
"I was like, 'No offence but you said you went into the Diary Room and said that you fancied me and here you are insulting what I look like so you lose'. And that's when I started getting nasty... it looked like she was getting spiteful.
"Then I just snapped and said a few things... thinking about it, it wasn't that bad," he added.
John James explained that Rachael had annoyed him when she implied that he and Josie would get magazine deals out of their relationship.
"I didn't know if she was being nice... I didn't get what she was getting at, that's why I said what I said. It wasn't that bad but it depends on how its portrayed," he said.
"She was insinuating I was fake, that's what it sounded like."