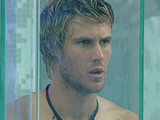 John James has announced to housemates that he is refusing to answer any questions when he leaves the house.
The Australian told Josie and JJ in the bedroom this evening that he will not take part in any interviews as revenge for how Big Brother treated him yesterday.
"They have fucked me off," John James explained to Josie later. "They have done everything in their power, they want me here.
"You should have seen them last night, they want me in here more than anything. That's why they gave me phone calls and stuff."
John James recounted how even Sam thought he had "control" over Big Brother and that they did the only thing they could do to annoy him yesterday by bringing ex housemate Rachael into the house.
"They did the immature thing and bit back at a housemate," he described. "'Cause they didn't have control of me they fucked me. They got to me the best way they could.
"I've got one more chance to not give them what they want... They want to interview me, they do - they know they're going to get publicity from me, they do. They're using me."
Josie maintained that all housemates had chosen to be "used" by appearing on the show and that his behaviour was "rude" and "ungrateful" for the Big Brother experience.
"They did everything in their power to stop me [leaving last night]. They need me more than I need them, that's the truth - they do and they've proven it," John James argued.
He then explained that he did not want to be embarrassed in front of his family after leaving the show in the same way that he had been embarrassed in the house this week by being forced to dress up as a crab.
"The only person who can make a mockery of yourself is you," Josie argued.
"To be myself is to not do the interview," John James added. "You've got different views on the programme than what I do. I don't think I owe them shit."