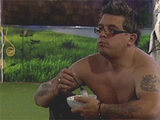 David and Sam have covered the living room in greaseproof paper, before pouring rice all over the floor.
The pair, who both face eviction this week, decided that - as it could be their last night in the house - they would make a mess using items from the kitchen that weren't being used.
"Operation brown paper! We've got 160 metres of greaseproof paper," Sam announced before suggesting that they should cover the room in it.
Once the graffiti artist and the minister had finished with the paper, they began to pour packets of rice onto the floor.
"You guys are crazy; I like it though," Mario said as he watched.
JJ emerged from the bedroom and saw the mess. "What the fuck? Are you fucking serious?" he asked Sam.
"Go to bed, everyone just go to bed," Sam replied as the rest of the group came out of the bedroom to see what was happening.
David then used a packet of rice to write the words 'tree glory' on the living room floor, hoping for a response from the Tree of Temptation.
In the bedroom, JJ told the others about the state of the living room. "I'm not cleaning none of that shit up," he declared, before warning Steve not to go out there. "Baron, don't look 'cos you will bust a nut," he said.
Sam and David went back to the kitchen to see if there was anything else they could use, but they found nothing. "I don't think there is anything else we can throw on the floor. It's only tomorrow innit, then we are gone," Sam stated.
Before heading to bed, Sam and David headed for the bathroom and used spaghetti to write the words 'got wood' in front of the Tree of Temptation.
The duo began to laugh as they walked back through the living room on their way to the bedroom. "Oh my god, this place looks fucking wrecked," Sam announced.