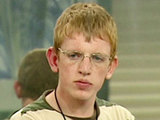 Mario has taken advantage of Andrew's 'Just Say Yes' task by asking the student to do a number of chores, knowing that he can only say "yes".
Earlier this morning, the Tree of Temptation
set
Andrew the challenge of being a "yes man" and to answer positively to all of the housemates' questions. As a twist, the Tree then told Mario of Andrew's task so that the former mole could manipulate the situation.
As Mario brushed his teeth while standing naked in the bathroom, Andrew went to chat to him. "Are you going to make us lunch today?" Mario asked, with Andrew replying: "Yeah, alright." Feigning surprise, Mario said: "Really? Are you going to make us lunch today?" Andrew confirmed that he would, before Mario sat on the student's knee, leaving him clearly uncomfortable.
While Mario, David and Andrew talked in the bedroom, Mario said: "Andrew, I'm going to be bold. Can you make me some eggs on toast?" The 19-year-old replied: "Can you do me a favour and throw some washing in?" As David and Andrew discussed whether washing needed to be done today, Mario chipped in: "But will you make me some lunch?" Andrew replied: "Yeah, yeah."
Mario then asked Andrew to sit on his lap, before adding: "You can be my puppet, do you want to be my puppet?" Andrew replied: "Yes." The aspiring fashion designer then proceeded to do a puppet show for David, making Andrew say that he fancies Mario and has learnt that he "must stay away from watermelons" since being in the Big Brother house.
Andrew then headed to the kitchen to prepare fried eggs on toast for lunch. Mario proceeded to order a visibly flustered Andrew around the kitchen by asking a series of very specific questions, ensuring that his eggs were prepared exactly the way he wanted them.
When David mocked Mario's instructions, he replied: "This is the first time he's ever cooked for me, I just want to make sure he gets it right. I'm just preparing him for when he gets a girlfriend."
After lunch, Mario reneged on his agreement to do some washing by asking Andrew if he would do it so he could learn how to wash clothes. Covering his tracks, the 28-year-old said: "We need to give you a crash course in looking after yourself, being nice to you is over!"