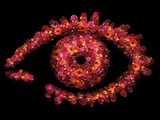 The winner of Channel 5's Big Brother will win a top prize of £500,000, according to a report.
It was
confirmed last night that the broadcaster has signed a deal with Endemol
to bring back the iconic reality TV show.
The
Daily Star
has revealed that it will run a daily competition in the two-week run-up to the show's launch, offering five golden tickets each day. The Willy Wonka-inspired contest will give 60 people the opportunity to audition for a place in the house.
Describing the competition as a "genuine life-changing opportunity", a source told the paper: "We reckon the nation will go Big Brother barmy. This has got to be the most astonishing prize ever offered by a newspaper."
Big Brother will apparently kick off on Channel Five with a four-week celebrity edition. It will be followed in September by a regular 13-week series, before Celebrity Big Brother is given another run. The series will then return to its usual summer scheduling.
The paper claims that the prize fund will be increased from the £100,000 won when the show aired on Channel 4 to £500,000 - similar to the amount won on the American version. It also suggests that fans will once again have access to a 24/7 live feed of events in the house.
Details of the deal between Channel 5 and Endemol remain unconfirmed with various sources suggesting that it is between a two- and five-year contract worth £200 million.
Channel 5's programmes director Jeff Ford is quoted as saying: "We're hugely excited."
> Click here for all our Big Brother news