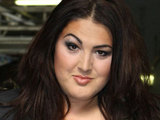 Ofcom has dismissed
Nadia Almada
's complaints that she was unfairly treated during her time on
Ultimate Big Brother
.
The series five winner re-entered the Big Brother house along with previous housemates for a special farewell series last year. However, Almada complained that she was unfairly treated in the editing of a heated row with fellow contestant Coolio.
The 34-year-old alleged that the edited version made her reaction to the rapper's behaviour appear unreasonable. She also claimed that he bullied her by making "transphobic and homophobic" comments towards her.
However, in it's ruling Ofcom agreed with Channel 4 that footage of Coolio's "prank" on Almada had been "presented in the programme in a fair manner and was a truthful depiction of the incident".
It went on to reveal that unedited footage had appeared to show Almada spit on Coolio's duvet and proceed to wipe her crotch and buttocks on it, telling him: "Look, look I spit on it, look! That is all yours now, that is all yours, look. My arse and my fucking c**t is on it."
Ofcom concluded that the broadcast footage was "unlikely" to have "affected viewers' opinion of her", adding: "The shoe incident had not been edited in a way that was unfair to Ms Almada and... the footage included in the programme fairly reflected Ms Almada's reaction and her reasons for it."
Meanwhile, Almada also lodged a complaint against a comment made by presenter Davina McCall on spinoff show
Big Brother's Big Mouth
.
While introducing a guest, McCall referenced the Portuguese housemate's "boyish good looks", something Almada claimed amounted to "transphobic and offensive comments". McCall later
apologised for the joke and said that she was "horrified" about upsetting
Almada or viewers.
However, Ofcom ruled that the presenter's comments about Almada's appearance were "in keeping with the general light-hearted tone of the programme".
Despite noting the "potentially hurtful nature of Ms McCall's comments" it was concluded that they had "not been made with the intention of offending or upsetting her Ms Almada" and "that they did not amount to a derogatory comment on her transgender status".
> Nadia: "Big Brother has ruined my life"
> BB Nadia: 'Suicide attempt was accidental'
> UBB Nadia: 'Davina made me hate myself'