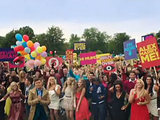 A full-length television advert for Channel 5's first series of Big Brother has been unveiled.
The much-anticipated
'When Bruv Takes Over' campaign
features some of the most notable housemates from the last decade welcoming the reality show to its new home.
The 60-second promo begins with BB6 favourite Makosi Musambasi answering Big Brother's call for action, before that year's winner Anthony Hutton kicks off a mime to David Guetta and Kelly Rowland track 'When Love Takes Over'.
A crowd of familiar faces including
the show's new host
Brian Dowling
, celebrity inmate Alex Reid and series champions Brian Belo and Josie Gibson then march through the streets accompanied by the tune.
The procession comes to an end in a field, where jets trailed by plumes of rainbow smoke fly overhead and celebratory placards are held up by the ex-contestants.
Watch the Big Brother trailer below:
The advert has been described by Channel 5 as "a no-holds-barred celebration" of Big Brother, which is
due to return to TV screens later this month with a celebrity special
.
The latest clip comes one week after
the release of the redesigned Big Brother eye
and expands on
two teasers for the new series
, both of which aired for the first time last Saturday.
> Big Brother: The Greatest Big Brother Adverts
> Brian Dowling is huge talent, says Big Brother 1's Anna Nolan
> Big Brother secures sponsorship from skincare brand Freederm