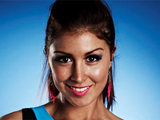 Faye Palmer
has fallen for Big Brother's prank in this week's shopping task.
She refused to agree to have 'Yes' tattooed on her arm as part of the challenge, after
Big Brother lied to her by claiming the tattoo was permanent
.
She said: "I thought it was going to be tiny... oh dear. This isn't a trick, is it? No, that's massive. Is this real? Couldn't they have just given me a temporary one?
"I've got to live with that forever. If it was semi-permanent I would do it. No I can't do it."
By falling for Big Brother's prank, the 19-year-old wrestler has failed her part of the task.
Fellow housemates
Heaven Africa
and
Anton Murphy
had succeeded in the 'Yes!' challenge.
Watch Faye refuse the tattoo below: