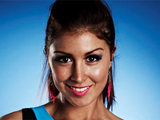 Faye Palmer
has been flirting with three boys during a sunny day in the Big Brother compound.
The 19-year-old confessed that she was bored and appeared to be trying to attract the attention of Aden Theobald, Jay Mckray and Mark Henderson at various points earlier today.
Faye teased Aden for behaving like a "sexy, sexy man" and joked during a cuddle with Mark: "Is that a battery in my back pocket or are you just happy to see me?"
She also spent a large amount of time flirting with Jay, trying to get him to play a game with her.
When he suggested Spin The Bottle, she replied: "You ruined the moment there, Jay. I thought we were having a moment."
However, Faye continued to play with him, pressing her high-heeled boots on his chest and claiming that she was excited about "getting drunk" this evening.
> Big Brother: Faye refuses tattoo in 'Yes!' task
Watch Faye flirt in the Big Brother house below: