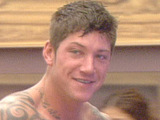 Big Brother housemates will come face to face with a savage gorilla as their bravery is tested during this week's shopping task.
During the challenge, the group will unknowingly meet world-famous gorilla impersonator Peter Elliott instead of an actual gorilla. Actors posing as a trained handler and wrangler will be on hand to ensure their safety.
Each housemate will be given a gorilla cuddly toy, which they must cuddle in order to transfer their scent. The 'gorilla' will then sniff out which housemate he wants to take part in the first challenge. The group will choose who undertakes the next three, with each successfully completed challenge winning 30 seconds towards the final task.
The first housemate chosen will have to enter the cage, where they must pass a beach ball back and forwards three times with the gorilla. In the second task, two housemates will be required to take a photograph with the gorilla, when they are inside the cage armed with a camera and some gorilla food.
As part of the third challenge, a housemate - equipped with portable CD player - will have to make the gorilla dance using their own dance moves. The final time-building task will require a housemate to dress as a gorilla and 'bond' with the other gorilla.
With two minutes in total to win, the final task will see 500 bananas placed in the garden. With each one worth £1, the housemates will have their total time won to collect as many bananas as they possibly can - while the 'gorilla' roams free.
Big Brother continues tonight at 10pm on Channel 5.
> Big Brother nominations: Who nominated who?
> Big Brother: Aaron, Maisy discuss kiss aftermath
Watch the housemates reaction to the latest nominations news: