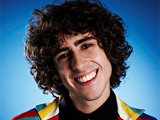 Big Brother's
Tom O'Connell
has broken down after questioning whether he deserves to stay in the house.
Comforted by Jem Palmer and Alex Rose, the Mika lookalike confessed that he feels guilty over the fact he has not been voted out yet.
Speaking to Aaron Allard-Morgan earlier, he admitted: "I feel like I don't want to be here today. Just bored. I don't want to be here if I'm not happy. It's getting a bit same old, same old. I'm just getting fed up I think.
"I'm feeling a bit worried now about what kind of reactions I'll get. I don't think I deserve to be here, I don't know why. I just don't.
"I just didn't think I'd get this far. It's hit me, now it's coming towards the end. You know
how Mark couldn't describe why he was upset
- that's how I feel."
Aden Theobald was evicted last Friday
by the public, while this week's nominations will be confirmed later today.
Watch Tom cry over his worries with Jem and Alex below: