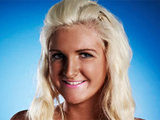 Big Brother's
Alex Rose
burst into tears following Tom O'Connell's
eviction on Thursday night
.
The McDonald's worker, who is favourite to win the show tonight (November 11), was consoled by her fellow housemates.
Over their nine weeks together in the house, Alex and Tom became close, with some suggesting that their relationship extended beyond friendship.
Couple Jay McKray and Louise Cliffe insisted to Alex that it will not be long before the pair reunite.
Aaron Allard-Morgan's attempts to cheer her up were not as successful as he asked: "Do you want some water, Alex? Do you want a custard cream? Do you want me to put pasta in my hair? Shall I just shut up now?"
Alex's mood had been more positive earlier in the evening when she was voted
Housemate's Housemate
by the remaining contestants.
Big Brother's grand finale airs tonight from 9pm on Channel 5.
> Big Brother's Tom O'Connell: 'Alex deserves to win'
Watch Alex break down over Tom's departure below: