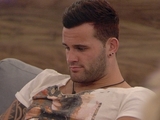 Conor McIntyre
has revealed to Big Brother that he misses his girlfriend.
Speaking in the Diary Room today, the personal trainer opened up about his troubled stay in the Elstree complex.
Clearly upset, the 24-year-old said of his deterioration inside the house: "The big man image has just disappeared."
The controversial housemate added that he is unsure why he "bottles things up".
Conor was
warned last week after threatening to "punch" Deana Uppal
, which prompted
a large number of complaints
by viewers to Ofcom.
Housemates nominated Conor for the public vote this week alongside Deana, Arron Lowe and Becky Hannon.
Big Brother continues tomorrow at 10pm on Channel 5.
Photo gallery - Big Brother Day 27:
Copyright: Channel 5