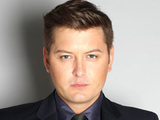 He's won it twice and was officially crowned the Ultimate Big Brother champion last year. So who better than
Brian Dowling
to take the helm for the new-look, revamped reality show when it takes its bow on Channel 5 next week?
Digital Spy
caught up with Mr Dowling to chat about celebrity housemates, replacing Big Mutha Davina and his memories of Ryanair.
What will you be most excited about on launch night?
"I think being a huge fan of the show, just standing on the stage is an honour. I'm looking forward to hosting it and what that brings. I will be nervous. That first link when the show opens, I'll be s**tting it. But the move to Channel 5 makes it a little easier. It feels like a new show again, even though it obviously isn't."
It's a tough gig replacing Davina, isn't it?
"She's done it for 11 years and she's iconic. It has been her show. But, like I say, it helps that it's moved to another channel. Plus, I've been in the house. I've nominated. I know what it's like. I've won it twice. But people can't compare me to Davina - I'm a guy firstly and secondly, I'm very different. I just hope people watch it and don't just judge. I've spoken to Davina and she says I'm the top man for the job, so that meant a lot."
Have you spoken to her directly? What did she say?
"She said, just be myself. She said I had bags of talent and personality. I think I've got the qualifications as well. I've been presenting shows for 10 years. I've done everything, I've done live, I've done radio, I've done pre-record. I'll just need to relax, enjoy myself and not take it too seriously."
What's more nerve-wracking - going in the house or hosting the show?
"Oh my God, this is nerves beyond anything I've done! There is no going back from here. It will be one of the biggest things I've ever done. Entering the show was all about me. This is something bigger than me and I have to be Brian at work. I keep joking, but I may have to take something to get me up there on the stage."
It's 10 years since you won BB and now you're hosting. Have you been reflecting on your career since landing the job?
"I'm thinking back on all the s**t shows that I've done!
The Mint
- wahoo! But in a way, I'm glad that I've done those shows. Everything that I've done over the last 10 years has helped me get here. I am being reflective though. I walked into a house 10 years ago with no agenda and now I'm walking into one of the most talked-about shows on TV."
Big Brother must have sorted you out financially for life as well...
"It has helped! I've been very, very lucky on that side of things, but I've never been money-driven. I've always just been very lucky in that sense. There was a thing where someone said, 'They've got an ex-housemate because it's cheap'. I'm not cheap. They should see what I'm getting paid. It's great to be rewarded and well-paid for your job, but you are putting a lot into the job. And you're putting yourself up for personal criticism. I've discovered since it was announced that some people can be quite hateful."
What have you made of the criticism online about your appointment?
"You have to take it on the chin, but that can be quite hard. There was some nasty stuff on Twitter, I was trending and people were saying, 'I hope it's because he's dead'. I was like, 'Jesus Christ, I've not been that offensive. I've been in a house, I've hosted shows'. That's not nice to read, but that's the way people are."
People have questioned you as a presenter in tough situations. How will you handle the more awkward and intense interviews?
"I think when that happens, you know what to do. I've always had an opinion when watching the show and you know what you would say. I think it will be a chance for me to say, 'Look I can do more than the funny stuff'. I want people to see the other side of me. I hope stuff like that almost does happen - I'm probably cursing the show - so that I can stand up and be more serious. It's a challenge. I used to work for Ryanair, it will be fine."
What are you hoping Channel 5 will do with the show's 12th series?
"I want to look at it as a new show. I think they could look at it from scratch and almost go back to basics a lot more. There's a lot of love for the show and people will miss it."
What do you mean by 'back to basics'? That phrase gets thrown around a lot with Big Brother.
"I think 10 years ago, it was people living in a house and it was less-produced. I hope it goes back to people living in a house, having fun and entertaining people. People want to watch telly to laugh. Big Brother was always very good at being funny. You need a good cast as well. Good people, bad people."
Why has the show endured?
"I think people are obsessed by what happens behind closed doors and Big Brother allows us to do that. I still put up a glass to my wall so I can hear the neighbours. I think it's completely possible."
Any hints on the celebrity housemates?
"I've heard Jedward. I've heard Kerry Katona. I've heard Kerry Katona's mum and great God, I hope her mother does it. I watch that show and that woman is amazing. She's great television. Can you imagine Kerry Katona's mum and Jedward?! That would kick off."
Who would you pick?
"I said the Octo-mum. Really randomly. I also said Mel Gibson. Someone like Charlie Sheen would be amazing. Anyone colourful that would bring drama."
Have you seen the house yet?
"I do know that there is a huge swimming pool. It looks a whole lot bigger. I think it's one of the biggest houses that they've ever had. They've knocked down walls, I think it will be the same amount of contestants, it just looks massive. And a really long swimming pool. You need a pool. You know what's going to happen. People will get drunk. Breasts will be flying around. People will get in the pool and have sex."
Are you keen for more sex in the house?
"Oh no, I don't want that. I think I'll be quite annoyed if they do have sex. I don't think it's a good thing. I'm not sure how I'd handle that. I wouldn't want sex in the house."
What's your biggest fear about hosting the show?
"My biggest fear is, the first night... 'Big Brother house, you're live, this is Davina... oh Christ!' I think that could happen. I've heard that for 11 years. I think the catchphrase will change. I may not be 'Coming to get you'. I think that will change. But what else can you say? I suggested 'Heeeey!' but they just went, 'No' and crossed it out. I think legally you have to say, 'Please don't swear'. I never understood it anyway. On the 10pm show everyone swears all the time. But on the live bit with Davina you couldn't. I can't imagine myself saying a catchphrase though."
Are you expecting a hard time in the press after the first show?
"I want people to give me a chance. I've done TV for 10 years. I did
SMTV
for two years with no experience. We won two BAFTAs for that. Now I'm 33 and it's time to step up my career. Big Brother is that opportunity. I will make mistakes, but it's about how you deal with them. From show one to show 15 it will be a totally different show."
Where do you think you'd be now if you hadn't taken part in Big Brother?
"I'd like to think I wouldn't be with Ryanair. Charging people to go to the toilet would be horrendous! I had to charge people £2 for a cup of tea and that was bad enough. I was once spat at because we'd been delayed for six hours. I was sat in the jump seat thinking I was going to get murdered. I'd like to think I'd be flying with British Airways now."
Why do you think Channel 5 gave you the job?
"They told me at my screen test that I'm very good at walking and talking, which you wouldn't think would be difficult. But it is quite difficult apparently and I do it really well. Clearly, someone they tested wasn't very good at talking and walking. *whispers* Cheryl Cole. Cheryl! So walking and talking, who'd have thought it?"
Do you think the show needed a serious revamp after a decade on Channel 4?
"I don't know any show other than the soaps that is on as much as Big Brother is. When Big Brother isn't around, you miss it. I think it was good to rest it because then people went, 'Oh it's summer, but there's no Big Brother, that's a shame'. I think the fact that it's gone to Channel 5... I'm sure they have something big planned. They have to make it their own. I know there's going to be a few twists in the normal series. And I know there are going to be some amazing tasks in the celebrity one. I think it will attract a whole new audience and maybe a younger audience. I think Channel 5 will be braver with the show and make it a bit more sassy."
Celebrity Big Brother launches on August 18 at 9pm on Channel 5.