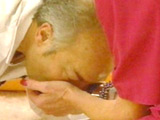 Celebrity Big Brother is well-known for causing controversy, but one of the highlights of the fourth series came during an innocent task where actress Rula Lenska was asked to perform as an animal. Assisting her, George Galloway proceeded to mimic the actions of a pussycat, licking imaginary milk from Lenska's hands and purring.
George and Rula have been imitating animals as preparation for Rula's part of the task.
The actress has been asked to try to communicate with animals, and as part of the preparation has been both practicing speaking with animals and pretending to be one.
After reading through the rules for the task, George, who has been acting as Big Brother's Lab Assistant, told Rula she had to prepare to communicate with an animal later that evening, and would only truly be able to understand them by becoming one.
Rula said she "needed to get into a meditative state." George relaxed her by reading the rules slowly and softly, telling her: "Close your eyes, breathe deeply, allow the centre of your being, your heart, your mind and your soul...to connect with the animal."
He asked her to "imagine you're sitting or standing quietly beside [one specific] animal in a peaceful or calm place. Open yourself to listening without judging until the chatter in your mind begins to still. Once you are comfortable in this deep silence you can become receptive and trusting of your own feelings."
He added: "It is important to establish rapport with the animal. Once you feel rapport is established, begin by asking a simple question. Be patient if you do not succeed the first time. An example of good phrasing is 'you're not eating today, is there something you would like to tell me?'. Close your eyes and see if the animal is sending a visual image or message. Good communication is a marriage of both words and pictures. This works with all species and is at the core of this universal language."
The pair then embarked on a roleplay taken from a "genuine case study," with George as the cat and Rula the human. Rula petted the MP, pretending to feed him milk as he licked at her hands and rolled over on the sofa, purring.
After the roleplay was completed, Rula was asked to "truly be" an animal by impersonating a lion, an elephant, a gorilla, a mouse and a spider in turn. Rula took it in her stride and imitated each animal.
Once this was completed, she sat on the sofa with George and discussed what animal Big Brother would bring for her to communicate with.