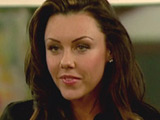 Michelle does not fancy Ben, her former Liberty X bandmate Kelli Young has claimed.
Speaking on Big Brother's Littler Brother, the singer said that she does not think Michelle is attracted to Ben in that way.
"Ben's attractive, Michelle's not blind - I think most people in the country would think he's attractive, but I don't think she
fancies
him," she told presenter George Lamb.
She added that Liberty X had toured with A1 and that if Michelle really fancied Ben she had ten years to act on the feeling.
Young said that Michelle's emotional outbursts are a result of her worries of how the show is being edited, adding that she may be "freaking out" about how she is being shown.
But she insisted that Michelle's boyfriend Hugh Hanley will be waiting for her when she leaves the show and that "he loves her to bits".
Fellow Liberty X member Kevin Simm said that Michelle probably nominated Tina for eviction because she is "loud".
He added that she may find Tina "intimidating in the same way she finds Coolio intimidating".