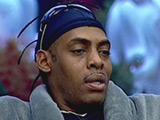 Coolio
has told Michelle that he does not dislike her and is only winding her up as part of the Big Brother game.
"Never at any time did I feel a dislike to you," the rapper explained.
"I think you're cool, I think you're a nice person. I was winding you up because it's a competition and I saw that it bothered you - because it's a game."
Big Brother had previously spoken to Coolio in the Diary Room about his teasing of Michelle.
On today's Big Brother's Little Brother, Michelle's former Liberty X bandmate Kelli Young said that the singer was often quite tearful when the group was on tour.
Young added: "She is a really emotional person. She has a little cry, but she does get over things and she doesn't hold grudges."