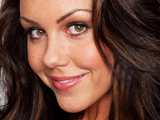 Michelle was discussed by the group in the aftermath of last night's surprise
double eviction
.
Housemates had just said their goodbyes to La Toya and Tommy and were gathered around the dining table when the former housemate was remembered.
Ulrika said the singer cared too much about popularity in the house, adding in explanation: "When she was nominated the first time she went, 'oh yipee, I'm going home' and then she started crying because she wasn't popular in here. It's a double-edged sword. She's very sensitive."
Coolio said that the 29-year-old "went for him" despite him doing nothing to upset her. "There was the whole Ben and Michelle
thing
going on," Ulrika reminded him.
"It was the truth, the attraction was too obvious not to say anything," Coolio replied, before Ben said: "I think Michelle was concerned how everything was being edited together."