Reality TV News
O'Sullivan glad about CBB appearance snub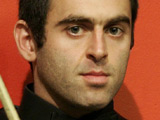 Ronnie O'Sullivan
has reportedly said that he is glad that he snubbed the chance to appear on Celebrity Big Brother.
The world No. 1 snooker player had to choose whether to enter the Channel 4 show or chase a fifth Masters title at Wembley.
According to
The Daily Star
, O'Sullivan said that he would not have enjoyed time in the house due to the celebrities who are currently taking part in the show.
The 34-year-old said: "I love watching Big Brother, it's a great show. But the people they have got in there this time are horrible.
"If I had been in there I'd have been out, over the wall and adios amigos. They have come up with a right bunch there, they're all rotten. I'd rather die than have spent time in there with that lot."
The sportsman has made his way into the last four at the Pokerstars.com Masters following a 6-3 win over Peter Ebdon.