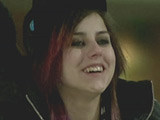 Ivana has admitted that she never wants to see Lady Sovereign again.
Speaking at her eviction press conference, the former wife of Donald Trump described Sov as "a twit".
When asked who she would be happy never to see again from the house, she replied: "Definitely Sov. She was really obnoxious.
"Katia was sweet, she had no clue what she was doing, but she was sweet. Sov I think needed help, I don't think she's loved, that girl."
Of her plans to stay in touch with Stephanie, she added: "She's going to come to Saint-Tropez. I invited her to come for ten days with her partner with me.
"I think the producers of Big Brother were hoping these two dames would be at each other's throats and they were very disappointed that we weren't!"
> Click here for our full coverage of Ivana's eviction press conference