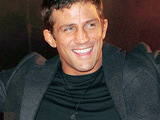 Vinnie and Stephen have claimed that they will help Alex find more acting work.
Speaking after
winning
the show, the cagefighter said that the offers of help were "amazing".
"I'm flabbergasted and really pleased they are doing that," he said. "I didn't go in there to network. I went in to show myself, but I've come out with all these amazing gifts.
"I've still got a fight in a few months! I'm focusing on that at the moment. But in the back of my mind, I am an actor. I've done a few things here and there. What a perfect opportunity to get back into it."
Meanwhile, Vinnie remarked: "If he's serious about being an actor then there are roles out there. Who knows? Look at me, I was the boo boy for years and years. Did I ever think I would end up in Hollywood or the FA Cup final? No, I didn't. No-one knows what their destiny is and I don't think he knows what he's going to do."
He added that Alex could join a television show he starts filming soon.
"If he wants a part in it... well, Katie [Price] has apparently already given my wife Alex's number," he revealed. "She's already working on it!"
> Click here for our full interview with Alex and Dane