Reality TV News
Sov: 'Nuts couldn't afford topless shoot'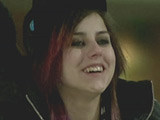 Lady Sovereign
has said that
Nuts
magazine could not afford to publish photographs of her breasts.
During her time in the Celebrity Big Brother house, the rapper told Page 3 model Nicola Tappenden that she would be happy to get her "norks" out for £2 million.
When asked by
The Guardian
if it should call weekly men's glossy
Nuts
on her behalf, Lady Sovereign quipped: "They haven't got the budget. They couldn't afford my lovely titties!"
The musician added that she "would" with Katy Perry and claimed that she had been to "first base" with the
'I Kissed A Girl'
singer.
Of the criticism she faced while in the house, she said: "I know I was accused of being lazy but I'm not. I don't mind cleaning up my own mess. I just don't like cleaning up after other people."
Ivana Trump recently
said
that she never wants to see Lady Sovereign again. Kym Marsh also
described
her as a "spoilt brat".