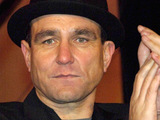 Channel 4 has apologised after
Vinnie Jones
used the word "retard" on Celebrity Big Brother's Big Mouth.
According to
Little White Lies
, the broadcaster took two weeks to say sorry for the use of language on the show. The comments during the episode, which first aired on January 29, have now also been removed from Channel 4's on demand service.
During the live broadcast, Vinnie Jones claimed that host Davina McCall was "walking like a retard", while McCall replied: "I don't walk like a retard."
In an apology to disabilities campaigner Nicky Clark, Channel 4's viewers' editor Paula Carter said: "I have spoken to the commissioning team responsible for Big Brother who regret that, in the heat of the moment during a live programme, Vinnie Jones's comment that Davina 'walked like a retard' was allowed to go unchecked.
"We would normally respond to an inappropriate comment of that nature by asking the presenter to admonish the person responsible and apologise to the audience but on this occasion, at the very end of an intensive day, this did not happen."
She added: "We have removed their comments from the VOD version of the programme. Please accept my apologies on behalf of Channel 4, Endemol and Davina and our best wishes for your campaigning work, which is very much in the spirit of Channel 4's founding principles."
McCall apologised verbally to Clark while Jones's publicist Jonathan Hackford said: "On behalf of Vinnie Jones I'd like to apologise for any offence caused by comments made on Big Brother's Big Mouth on January 29, 2010.
"While the show was live and the conversation was unscripted and off the cuff, Vinnie in no way meant to upset anyone and fully appreciates the choice of word was inappropriate."
However, Clark argued that "racism wouldn't be excused this way" and added: "Disability abuse happens every day. When a national broadcaster allows this behaviour to go unchallenged they are saying it's acceptable."