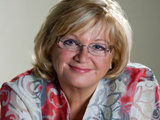 Psychic Sally
Morgan has revealed that she would "love" to take part in Channel 5's Celebrity Big Brother.
Morgan claimed that she would never do
I'm A Celebrity...
because of her fear of rats and mice, but said that the idea of a "big holiday" in the Big Brother compound appeals to her.
"I'd love to do the Big Brother house. Do you know why? Because they don't do anything all day. It would be a big holiday in the Big Brother house," she told
Digital Spy
.
"I wouldn't mind doing that, you know, the old Big Brother. I'd probably get voted off first, but I wouldn't mind that. A nice little break. You just sit there and make friends. I've got a weird sense of humour and I'd find it all funny rather than irritating."
Speculating about how she would fare in the jungle, Morgan said: "I think I'd pass out. I'd do a Gillian McKeith! I don't think I could do it. I would freak. I would run out of the jungle. I would leg it. And I could not eat kangaroo testicles. No. Thank. You."
Psychic Sally: On The Road
is currently airing on Wednesday nights on Sky Living.
> Read our full interview with Sally Morgan
> Psychic Sally: 'I feel sorry for Derren Brown'