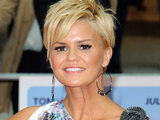 Ex-Atomic Kitten star
Jenny Frost
has said that taking part in Celebrity Big Brother will make or break Kerry Katona.
The
Snog Marry Avoid?
presenter replaced Katona in the 'Whole Again' group in 2001. Speaking to the
Daily Star
, Frost said that viewers want to see what the 30-year-old is "really like".
"I've not seen Kerry in years but I was good friends with her ex-husband Brian McFadden," she said. "She's had many highs and lows since then and I think there will be lots of eyes on her because people want to see what she's really like."
Frost, who was
recently named the new co-host of Channel 5's OK! TV
, continued: "This will make her or break her, really, but I wish her the best. My only hope is that her horrible ex Mark Croft doesn't come out of the woodwork again. He's bad news."
Talking about the celebrities who will live in the famous house with Katona, Frost said that each "will go in there with a gameplan".
"Whether consciously or sub-consciously, they will have an idea of how they want to act or be seen. But it's natural that once they start to relax and get to know everyone their guard will drop," she said. "There are some really nice, genuine, down-to-earth people in there and some others who will be placed to deliberately cause friction.
"What I can tell you is that Channel 5 are really pulling out all the stops to make sure this will be the best Big Brother yet and I, for one, will be glued to all the action."
> Kerry Katona 'on military-style fitness regime for Celebrity Big Brother'
Celebrity Big Brother,
hosted by Brian Dowling, launches on Channel 5 at 9pm on Thursday, August 18
.
Watch Channel 5's Big Brother promo below: