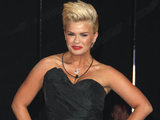 Kerry Katona
has been set a secret mission on the first night of Celebrity Big Brother.
The
Coming Clean
star was instructed to become the reality show's biggest celebrity diva ever after answering Big Brother's request for a housemate to visit the Diary Room.
Katona was told that she must "throw a massive celebrity tantrum" as soon as possible ahead of a special challenge tomorrow, in which the group must pick the most high-maintenance housemate.
"Get creative and make sure you really kick off," Big Brother told Katona. "Shouldn't be too tricky for you, should it Kerry?"
Housemates must choose Katona as the biggest diva in order to pass, otherwise the ex-Atomic Kitten singer will face a punishment.
"Remember Kerry, this is our little secret," Big Brother finished, as Katona swore and squirmed in the Diary Room chair.
"Why couldn't I let someone else come in?" she despaired. "I'm not a diva!"
Despite her protests, Katona wasted no time getting her secret mission under way, as she collapsed to her knees in the living room and demanded that Big Brother provide her with cigarettes.
"I want a cigarette and I want it now! Come on Big Brother! Oh my god!" she yelled, before giggling: "Did I just throw a tantrum? Sorry."
She later added to Jedward: "I really want to go home already guys. I just want a cigarette, you know what I mean? Normally if I want a cigarette, I get a cigarette, just like that."
Big Brother has since informed Katona that she will have to swap beds with one of her fellow housemates tonight as part of her task.
More Celebrity Big Brother launch night coverage:
> Celebrity Big Brother launch night: Live blog
> Kerry Katona, Tara Reid first in the house
> Paddy Doherty, Amy Childs make their entrance
> 'Mr Paparazzi' Darryn Lyons, 'Mrs Speaker' Sally Bercow enter the house
> Lucien Laviscount, Pamela Bach-Hasselhoff move in
> Jedward, model Bobby Sabel complete lineup