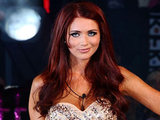 Amy Childs
and Lucien Laviscount have been getting flirty in the Celebrity Big Brother house.
The
Only Way Is Essex
star began her charm offensive when housemates were let into the bedroom for the first time last night.
As Jedward excitedly bounced over all the house's beds, Childs quickly picked her spot and gestured for the
Waterloo Road
actor to come join her on the bedspread.
"How are you enjoying the house?" she asked, getting only a nervous look from Laviscount in response. "Come on hun, I'm only joking. I wanna chat, not get married."
In response to Childs's teasing, Laviscount put on an exaggerated Essex accent and began to question the model about life in the house so far.
"Oh my God, I don't talk like that, so what you saying it like that for?" she hit back. "Can you stop flirting with me please?"
"You call this flirting?" Laviscount smiled.
Childs and Laviscount both confessed on last night's launch show that they would be interested in a Celebrity Big Brother romance.