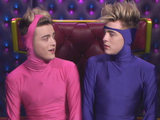 Jedward
have successfully passed their separation task after their fellow housemates correctly identified the twins.
The pair were
told to split up earlier today
by Big Brother so that the housemates could get to know them better.
They were told to stay at least five metres apart at all times, or they would be given an electric shock.
Housemates were later called to the living room area while Jedward remained in the Diary Room. Photos of the Irish twins were then posted on the TV screen.
They then had to correctly identity which of the twins was John and which was Edward, with Tara Reid adamant in her choices, saying: "I promise you, one's skinny, one's not".
Big Brother announced that the housemates had correctly named the twins, and were rewarded with a 'pop party' later in the evening.
> Celebrity Big Brother: Jedward favourites to win, Sally Bercow for eviction
Watch the result of the Jedward separation task below: