17
Reality TV News
Pete Burns blasts 'two-headed monster of t**ttishness' Jedward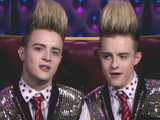 Ex-Celebrity Big Brother housemate Pete Burns has branded
Jedward
a "two-headed monster of tw**ttishness".
The Dead or Alive singer launched a stinging tirade against the
X Factor
pop duo in an interview with the
Daily Star
, claiming that the twin brothers give him "the creeps".
"They are a two-headed monster of t**ttishness!" he said.
"The producers should have split them up - separated them completely so we could watch them bubble into meltdown and kill their careers. Those stupid gormless looks they always wear give me the creeps."
He added: "They are just creepy. They're asexual, unattractive, juvenile and stupid. Unfortunately I think the public might let them win."
Burns said that he is backing Kerry Katona, who he described as "adorable", and
Big Fat Gypsy Weddings
star Paddy Doherty.
"Hopefully [Paddy] will get into a scrap at some point so we can see his fists in action," said Burns.
> Celebrity Big Brother: Jedward's hair 'insured for £1 million'
> More Celebrity Big Brother news
Watch Jedward in the Celebrity Big Brother house below: