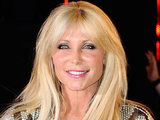 Pamela Bach-Hasselhoff
has become the second contestant to be evicted from the Celebrity Big Brother house.
The actress was ejected from the Elstree compound after fellow nominee Darryn Lyons received more public votes to save than her.
Bach-Hasselhoff responded to the news by cheering and hugging the other contestants to say farewell.
"I love you all," Bach-Hasselhoff told the rest of the housemates as she exited. Amy Childs said: "We'll miss you. We love you."
Watch the moment Pamela Bach-Hasselhoff was evicted from the Celebrity Big Brother house below:
She came out of the house to the sound of Katy Perry's 'Hot n Cold' amid loud boos from the crowd.
Bach-Hasselhoff reacted calmly to the audience's reaction as she walked down the stairs for her exit interview with Brian Dowling.
After
speaking to Dowling about her "embarrassing" time in the house
, she was asked to select
which four of the eight remaining contestants would be immune from the next public vote
.