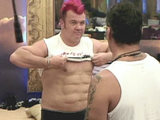 Pete Burns
has revealed that he is "fascinated" by Darryn Lyons's 'enhanced' six-pack.
The former Celebrity Big Brother housemate described the current resident's abs as "repulsive". Lyons recently unveiled his washboard stomach inside the house, and explained that it was created via a surgical procedure known as 'contouring'.
Burns, who has had his own plastic surgery procedures in the past, told the
Daily Star
: "Those fake abs look repulsive! He looks like he's wearing a fatsuit.
"I find it fascinating. I want to see it up close so I can give it a poke and see if it moves."
The Dead Or Alive singer added that the current series needs an injection of "nastiness" to stir things up inside the house.
"I'd have put them in mud huts in the middle of a field, with cow pats everywhere," he said. "They'd have a trough to eat out of, a pail for their water and barbed wire to keep them in."
Pete Burns recently described housemates Jedward as
"two-headed monster of tw*ttishness"
.
> Pamela Bach's Celebrity Big Brother eviction seen by 2.3m