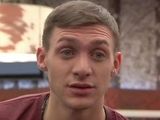 Georgia Salpa has accused
The Only Way Is Essex
's
Kirk Norcross
of playing games in Celebrity Big Brother.
The Irish glamour model, who was evicted last night, said that Norcross had been too "full-on" in his attempts to woo her and that he was looking for a show romance to win support.
"I thought he was cute, I thought he was funny," said Salpa. "We were having a bit of a laugh in there. But I think he came on a bit too full-on at the start. If he'd had a bit more game or played it a bit slower, we could have had a bit of a flirt of whatever. It was just so full-on at the start, it was a bit much."
When asked about housemates having gameplans, the Lynx model said: "I think a few of them do. Kirk. I think Kirk's a lovely guy and he's only 23, but I think he's thought everything through way too much.
"The way he went in there saying he was single, then claiming that he had a girlfriend, he'd thought it all through way too much."
Salpa said that she was more interested in a possible relationship with Romeo Dunn than Norcross, describing the former So Solid Crew star as "a gent" and "gorgeous".
Celebrity Big Brother continues tonight (January 19) on Channel 5.
> Celebrity Big Brother: Georgia Salpa interview
> Georgia Salpa evicted from Celebrity Big Brother