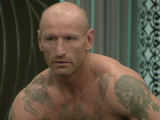 Gareth Thomas
has been handed a secret mission from Big Brother.
The Welsh rugby star has been challenged to spout sporting clichés to motivate tonight's nominated housemates.
Included are phrases such as, 'Put your game face on', 'It's a game of two halves', 'You're in a league of your own' and 'You think it's all over, it could be tonight'.
If he manages to use all 13 clichés, Big Brother will hand over another copy of his letter from home, which was
shredded earlier by Nicola McLean
.
For tonight's eviction, Thomas is the only contestant who was not nominated, following a
shock twist from Big Brother
.
The 37-year-old is currently the
bookmakers' favourite to win the reality show
, which concludes next Thursday.
> Celebrity Big Brother Gareth Thomas comforts unpopular Michael Madsen