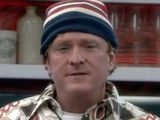 Michael Madsen
has been given the task of leading his fellow Celebrity Big Brother housemates in a poetry task.
All contestants, after splitting into groups, had to read their respective poems using a microphone on stage.
For his poem, Madsen jokingly recited: "As my father once said, no-one does anything in this life but for two things... and money."
Denise Welch, teaming up with Gareth Thomas, referred to her topless jacuzzi antics by saying she "tantalised the boys with my great pair of jugs".
Rapper Romeo Dunn, who was paired with Frankie Cocozza, mocked Nicola McLean's laugh, while the Shannon twins took their opportunity to tell Cocozza that he will "never be cut out for marriage".
Taking to the floor for a final time, Madsen addressed the house in a stirring speech: "I was told that this task would bring everyone back together and I didn't believe it.
"But I think it happened... all I can say is it's impossible to choose a winner, so I think we're all the winners. Big Brother's the winner for coming up with this task."
For passing the challenge, housemates decided to order a Chinese takeaway for last night's dinner.