Samantha Brick
has reacted emotionally to being put up for eviction by her fellow Celebrity Big Brother housemates.
Coleen Nolan, Julian Clary and fellow nominee Danica Thrall voted for the writer on
Sunday afternoon
(August 26).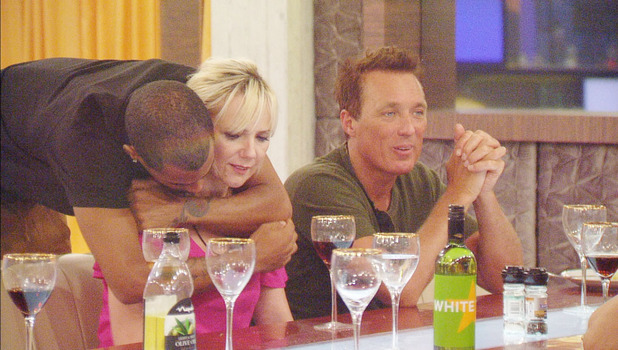 Julie Goodyear offered words of sympathy for Samantha, telling her: "You're not going, cut the s**t, go through the motions but it won't happen!", adding: "I know your hubby would love to see you, but tough titty!"
After cooking a meal for the other housemates, Samantha was urged to "be strong" by Martin Kemp, while Coleen Nolan privately expressed guilt over nominating her.
Later in the Diary Room, Samantha broke down in tears, sobbing: "I swore I wouldn't cry - everyone thinks I'm this hardnosed journalist."
Of being nominated this week, she insisted: "It's not fair, I can understand why people are suspicious about me, it's not me, I'm really quite soft."
Celebrity Big Brother continues every night on Channel 5.
Photo gallery - Celebrity Big Brother Day 13:
Copyright: Channel 5