Julie Goodyear
may face the wrath of Big Brother after appearing to break one of the key rules of the house by attempting to discuss nominations with Harvey.
After last night's eviction, which
saw Danica Thrall and Samantha Brick leave the show
, Julie cornered MC Harvey in the bathroom and asked him: "Who do you nominate?"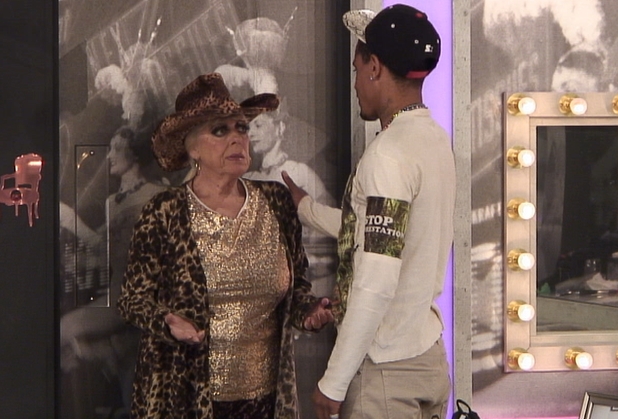 Harvey replied: "I ain't got a clue!", to which Julie countered: "But it could come up now! Prince?"
The former soap star had been rattled after hearing fans chant "Get Julie out" during the live eviction.
She told Big Brother: "I could hear them say 'get Julie or Julian [Clary] out', what's happening? It really threw me. I didn't understand why they were chanting when we weren't up for eviction."
Harvey speculated that Julie's action may get her into more trouble, telling Ashley McKenzie: "[Julie] has done something deep tonight, bruv. Big Bro will deal with her, bro.
"Rule broke, she's exposed when she shouldn't have exposed. She said a man's name... She is getting herself into some bad s**t, bro. She's tried to influence me."
Celebrity Big Brother continues every night at 9pm on Channel 5.
Photo gallery - Celebrity Big Brother Day 17:
Copyright: Channel 5