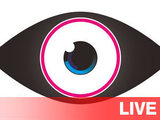 Last time on the live feed, Channel 5 treated us to some grade-A, Z-list torture in the form of face-to-face nominations. Will there be a similarly exciting twist tonight? Or can we expect to see them sitting around picking their noses and begging for alcohol again?
Whatever Big Brother's got in store, with eight housemates up for the chop and two being booted out in tonight's eviction show, you wouldn't want to miss a minute of it. Luckily,
Digital Spy
is on hand to detail all the breakdowns and boozy banter as it happens in our live blog.
22.30
And before you know it, it's all done. Bye bye live feed. But the night's not over yet. Remember to switch over to Channel 5 at 11pm for tonight's second eviction and we at
Digital Spy
will see you there.
22.28
Apparently Gareth and Romeo will duet on '21 seconds' tonight if they both survive, with Natalie Cassidy taking on the role of Lisa Maffia (who is actually probably a good shout for Celebrity Big Brother 2013). Alas, we will not be made privy to this masterpiece. We're just civilians...
22.25
The housemates agree that Kirk was just as shocked by his eviction as they were. But they're happy he can get back to his phone, which he was apparently missing like mad. Once again, this man has a porn star girlfriend and he's craving the touch of his
Blackberry
! Tsk, celebrities, eh...
22.23
In the living room, Nicola is already contemplating the next round of nominations. "Everyone here likes each other," she says. "We're lucky... apart from Denise and Michael. We have to vote for people... it's a gameshow, just chill." She's got to make it there first, of course.
22.21
"I honestly can't get my head round that," Frankie says of Kirk's eviction. All the housemates are in stunned silence. Yup, being evicted from the Big Brother house and getting to go back to your porn star girlfriend is literally a living hell.
22.18
We're back and the twins STILL can't believe that Kirk went. Something tells me they're slightly less confident about their chances now.
22.15
Denise tells the twins not to worry about the "jealous girls" booing and reminds them that Kirk received huge cheers and still got evicted. We're half way through tonight's feed
already
, believe it or not. Channel 5, our appetites are suitably whetted - bring back the live feed proper now please!
22.12
Big Brother calls Frankie into the Diary Room, presumably to prod him into bawling his eyes out over Kirk so they can stick the footage in later. Outside, the twins say they were "freaked out" by Kirk's shock exit.
22.10
The twins "can't believe" Kirk has gone and demand to see his goodbye message.
22.09
The housemates are talking about
Celebrity Wedding Planner
starring Stuart Baggs and Rafe from
The Apprentice
. Well, somebody has to be.
22.08
Ooh, we get to hear Brian's voice again LIVE. It's like being in the house. It's possible... I mean if Georgia Salpa can get a spot...
22.07
The twins reveal that Kirk said on his way out that he "enjoyed living with" them. Yeah, that was before he saw the VT, girls. Good luck keeping up that bond.
22.04
One of the twins claims that she heard someone trying to kick in a door to the house. Andrew Stone trying to get back on the show, perhaps?
22.03
Nicola says she will "really miss" Kirk. Big Brother calls them all to the sofa and they correctly predict that tonight will be a double eviction. Prepare to relive their annoyance one again, you lucky people.
22.00
Evening all. What a night it's been already... A shock exit for Kirk and some sour faces from the twins over their boos. How much bitching can they fit into 30 mins? We're about to find out.