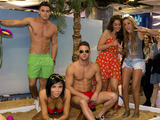 The
Geordie Shore
gang may be causing 'Chaos in Cancun' at the moment with not a care in the world, but they'll be brought back to reality when the cast is dramatically shaken up for the filming of series four this summer.
Since
Jay Gardner
and
Rebecca Walker
are both out and
some newbies are coming in
, it's fair to say that
Geordie Shore
as we know it, is no more.
It's back to the drawing board and
Digital Spy
would like to make some suggestions before the cast draw c**ks all over it. Here's a few ideas for the reboot (rebosh?) of
Geordie Shore
...
More cast culling:
The confirmation that Jay and Becca would be leaving the series was met with a reaction in the
Digital Spy
office that can basically be summed up as "meh". The former has gone all virginal in Cancun after bagging himself a "worldie", but really he didn't do much more than grunt before that. Becca, meanwhile, is still the new girl and seems too scared of Vicky Pattison to risk doing anything adventurous.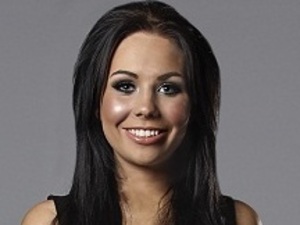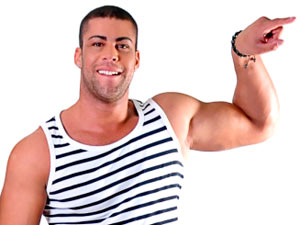 Both were there really to make up the numbers - and the sad truth is they're not the only ones who have got a bit complacent. Ricci Guarnaccio has silenced Vicky's wicked tongue by constantly sticking his own down her throat, while bringing very little to the table himself. Sophie Kasaei was always a bit of a weak link, but since shacking up with mega-tool and
Love Shaft
contestant Joel she's been too tired from arguing or being constantly paranoid to muster up a witty confessional. They're both replaceable, and frankly we'd only want to keep Holly Hagan and James Tindale as long as they keep alive reality TV's second-most bizarre hook-up (congrats
TOWIE
's Gemma and Arg). So basically what we're suggesting is...
Make it 'The Charlotte and Gaz Show':
Every
Geordie Shore
viewer knows that Charlotte Crosby and Gaz Beadle are by far the show's biggest assets. Individually they're probably the two best characters anyway - Charlotte's cutely crass, shy girl dying to be a porn star act is hopelessly endearing and we've grown to love man-tart-with-a-heart Gaz over the series - but when you put them together, magic happens.
The will-they/won't-they thing is a boring, overused TV cliché, but Chaz have somehow breathed life into it with their disgusting beer-tainted breath. Maybe it's simply because their relationship is real, and seeing two people with undefined feelings drunkenly hook-up then scream at each other the next day connects with us on a more personal level than the big romantic gestures and contrived season finale break-ups. Or maybe it's because
they're so blatantly perfect for each other
.
Either way, we love watching them and it's not necessary to have the rest of the
Geordie Shore
crew sitting around as a shoulder to cry on. Just stick Gary and Charlotte in a house together, or put them in some other kind of scenario where they have nobody else to go to for respite, and watch them either implode or (ideally) realise that they're in love.
Bring in Vicky's ex:
We're not sure if he's proper
Geordie Shore
material, but we'd be okay playing fast and loose with the premise of the show if a twist like bringing in Vicky's ex would reawaken the volcano. if you don't know the story, basically Vicky started series two of
Geordie Shore
dating a guy named Dan, but after
a lot
of flirting and aborted break-ups decided she liked new arrival Ricci more. They got together,
got engaged
and then they lived boringly ever after.
Now we're not saying we want to break-up the happy couple or cause anyone hurt, but can you imagine Vicky and Ricci opening the door to the
Shore
house next series and seeing that one of the new faces is the person they... well... kinda screwed over? It may seem drastic and potentially destructive, but something needs to be done to kick Vicky and Ricci out of their lovey-dovey funk and the possible repercussions of a move like that are too darn tantalising. Don't judge us - all is fair in reality TV world.
Geordie Shore goes live:
If you've been on
Digital Spy
for a while, you'll know that we're all still cut up by the loss of the Big Brother live feed.
Geordie Shore
, as BB's mutated, muscle-bound and drunken sibling, has the potential to fulfil our craving for up-to-date reality, only we wouldn't see people sitting around twiddling their thumbs and talking about the weather, we'd see people falling out of cabs, vomiting on dance floors and 'tashin on' right before our very eyes, like some kind of urban nature documentary.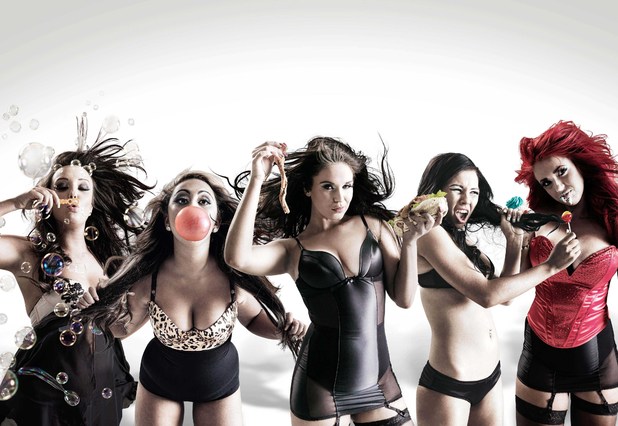 We at
DS
have had the pleasure (?) of seeing in real-time
what happens to the Geordie Shore lot
when they're let loose around a free bar. It was unforgettable. For those of you who think that live updates of 'Broken Britain' is perhaps crossing the line, ask yourselves this - if someone was around to record your grimiest, most-scandalous and shameful night on the tiles, we're confident you'd want to watch it the next morning, if only to cringe, shake your head and vow never to drink again.
Geordie Shore
live would allow the same twisted thrills.
Get Cheryl Cole on there!
It's been established that the lovely Miss Cole is
a big fan
of watching her Newcastle brethren 'gettin mortal', so now the seed has been planted in our heads that one day we'll see Chezza 'tashin on' with James, rowing with Vicky or having her hair held back by Charlotte as she vomits in the gutter.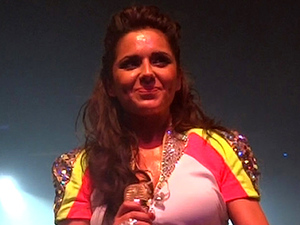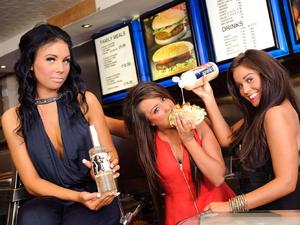 Maybe we're kidding ourselves to think that Cheryl would ever swap sipping champagne with Prince Charles to drinking Goldschläger from a bottle wedged between Holly's breasts, but is there really any reason why we can't be treated to
a small cameo
? Can't MTV load the
Geordie
cast onto a bus, drive them to a Cheryl concert, stuff them full of alcohol and then take them backstage for a quick encounter in her dressing room? If Cheryl could endure the mayhem for just five minutes, the show she loves would prove that it could deliver and maybe convert a few more viewers. And who knows, with Gaz's legendary pulling tactics maybe we'd even have a hot new celebrity couple on our hands.
Are you a fan of Geordie Shore? How would you like the show to change? Leave your comments below!