Rejected
Voice
UK singer
J Marie Cooper
has taken a swipe at the series on Twitter, hitting out at the focus on her age on the show.
Cooper was
edged out of the Top 20
by 17-year-old Sophie Griffin, following their Battle Round performance of 'Firework'.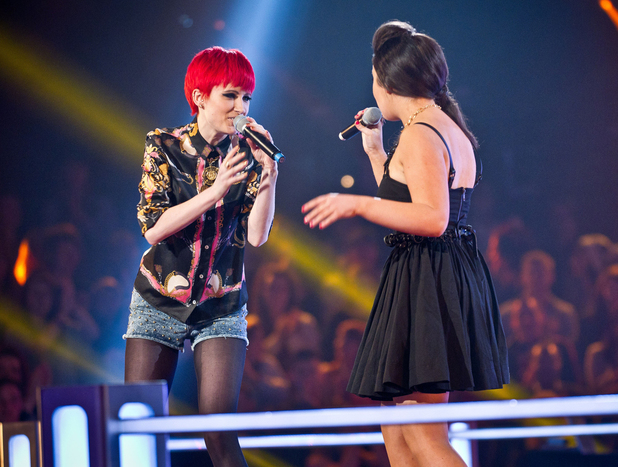 will.i.am opted for Griffin and suggested that her youth was the deciding factor in his verdict. Jessie J agreed with the Black Eyed Peas star's decision, claiming that there wasn't much more room for Cooper to grow as an artist.
The 27-year-old hit out at the BBC show's edit of her Battle Round, saying that they cut out large amounts of her backstory, and was critical of the comments about her age.
"Hey peeps, there was a lot cut from my final edit of
The Voice
, including any emotion or story I might have had," she wrote.
"I don't feel I was portrayed entirely correctly. I have experience as a singer yes, but needed this opportunity too. I am still working for £7:50 an hour.
"So the whole 'she's so experienced' thing is a bit much. I am, but don't think that should be a reason not to go through."
Cooper continued: "The fact that I am 27, should not have even been a factor. It's called 'The Voice' not 'The Age'. I'm stating facts here.
"'She's as good as she can get' is also an assumption. Anyone knows as an artist/singer you never stop learning. I always think I can grow more.
"I have also said all of this to will.i.am . I am a very honest, real person. Always gonna say it as it is."
The singer insisted that her comments were not a dig at rival Sophie Griffin, describing the teenager as "a great singer". "I just think the comments should have not been about age!" she said.
> 'The Voice' UK tops 10 million for first Sunday night show
> Jessie J, Tom Jones to perform duet on BBC Radio 2
Photo gallery - The Voice UK Top 20: