Reality TV News
BB asks housemates for opinion on John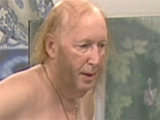 Big Brother has confused housemates by asking them their opinion of John while he watched them from the bedroom.

Earlier, the racing pundit told the group he was going on strike against Big Brother and asked no-one to speak to him until further notice.

Having spent the morning in the bedroom away from the group, Big Brother called John and the rest of the housemates to the sofas. John sat down next to Nadia, but he soon returned to the bedroom while Big Brother spoke to the group.

The announcement began: "Big Brother would like all housemates who think John is a nice housemate to raise their hand." The entire group put their hands up; with Coolio and Nikki raising their arms somewhat reluctantly.

John remained in the bedroom, where he could see and hear everything that was happening through the glass.

Big Brother then asked any housemates to raise their hand if they thought John was not "nice". None of the group put up their hand and they were then told they were free to leave the sofas.

"What was all that about?" Chantelle asked.

"I don't know what Big Brother is trying to do, but that just embarrassed John and if he is in a bad mood, he is in a worse mood now," Makosi replied.