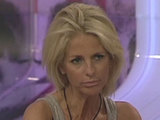 The housemates were asked to pack Josie's things earlier after Big Brother confirmed that she will not be returning to the house.
The group were gathered on the sofas and told of Josie's exit this afternoon, before Big Brother instructed them to collect her suitcase from the store room and gather her things.
"Bye Josie!" said Brian on hearing the news.
"What a shame, I didn't think she would come back... Think how happy she is now," replied Chantelle.
Preston agreed: "It's a really brave thing to do, to walk out like that."
Brian, Nikki and Chantelle comforted Ulrika as she began to cry. "I'm just being selfish," admitted the TV presenter, who had shared a bed with Josie during her stay.
"There's nothing any one could have done and the thing I respect is she just did it," Brian explained, adding that he admired her for leaving rather than 'threatening' to go.
Ulrika and Brian then headed to the bedroom to gather the Bristolian's things and put them in her suitcase. Ulrika decided to keep one of Josie's flowers to wear in her hair in tribute to the 24-year-old.
Preston helped Ulrika carry her stuff to the store room as Brian commented: "Josie is officially leaving the building."