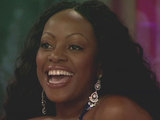 Makosi has said that being in the house again is like "therapy" for her after going in the Jacuzzi for the first time since her infamous encounter with Anthony in Big Brother 6.
Earlier, Makosi spent a short time in the Jacuzzi with John and this afternoon spoke with Ulrika and Brian about society's views on women.
Ulrika said: "Women who are sexually confident, society finds distasteful."
Makosi responded: "People don't take to confident women like they do with confident men."
Concluding the discussion, Brian said: "I love our therapy times."
Makosi agreed, saying: "This feels like therapy. Going into the water is the first time I've been in a Jacuzzi [since the Anthony incident]."
Brian joked: "You've had a change from Anthony to John."
Makosi told him: "I just don't want it spoken about", referring to her VT containing the clip on Tuesday.
Nick pointed out that Makosi may be set a task by Big Brother in which she "shares a glass of wine" with Anthony in the pool. She said: "I will not get into the Jacuzzi with Anthony!"