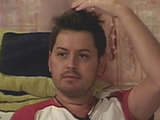 Bedsit residents Victor and Michelle chose to treat Brian and Nick to the chance to listen to their favourite songs this evening.
The unsuspecting pair were called to the small task room, where they were met with wigs, hats, feather boas, microphones and an air guitar. They excitedly began dancing as the first song - Kylie Minogue's 'On A Night Like This' - began to play.
"Oh this is fun!" exclaimed Brian after the first tune, grabbing a red wig for a change of costume before the next song, 'Womanizer' by Britney Spears, kicked in.
"Have you ever danced to 'Womanizer' before in your life?" he breathlessly asked Nick when the track came to an end. "No. Never," he admitted, as the incredulous former winner exclaimed, "What? Never!"
Nick admitted that he had never even heard the song before, as Brian failed to hide his shock. "No. I only like two of her tracks. 'Hit Me Baby One More Time'... and a dancey one," he said.
Laughing as they watched from the Bedsit, meanwhile, Victor said: "At least they're going to burn a few calories in there doing this, hey. This is going to be a car crash if Beyoncé comes on." Michelle agreed. "Brian will be doing all the moves!" she laughed.
Sure enough, the diva's hit song 'Single Ladies' was played, and Brian donned a top hat and a feather boa to show off his knowledge of the choreography.
"Oh, top entertainment," sniggered Victor, watching intently. "Oh, dear me!" laughed Michelle.
Afterwards, Brian admitted: "That was good, I enjoyed that. I feel like I've got loads of energy now."
"Yes, that was fun," conceded Nick, before they began waltzing to 'Lady In Red' and their disco experience came to an end. "Thank you Big Brother!" shouted Brian, as the pair exited the task room and ran to tell their fellow housemates about their experience.
"We just went into a task room that was like a discotheque, and all our favourite songs were played," enthused Brian."It's the gayest thing that Nick has ever done!"