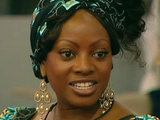 The housemates have received the details of this week's shopping task, which involves recreating some of the most memorable moments from the past Big Brother series.
Earlier, Big Brother asked one housemate to come to the Diary Room to fetch the instructions. Brian headed in and came out to relay the information to the group.
"Housemates will be re-living significant moments from the past 11 years in Big Brother," he began.
The group were informed that they could incur no more than four fails over the next three days and that if they pass they will receive a luxury shopping budget.
"This is such a good task!" Nikki said.
Brian began to speculate over which moments would be deemed "significant". Nikki suggested that Nadia may be asked to put on the army costume she wore during her rant in BB5.
The group then began to wonder if BB6 winner Anthony Hutton would enter the house to recreate the infamous "pool-gate" scene with Makosi.
"There's no way on earth he would do that," Michelle replied, as Makosi began to cry.
Chantelle reassured the BB6 contestant that Big Brother could not force her to do anything she did not want to.
"If they did say that, just say you don't want to do it," she said.
Shortly after, Nick and Ulrika returned from the Diary Room to reveal that they had been paired up to recreate Ulrika's performance of 'Endless Love' that she gave on CBB6 with Verne Troyer.