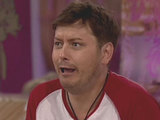 The group discussed some of the more memorable housemates in the history of Big Brother tonight, as Brian said that some have been "genuine nutters".
As the housemates waited outside before Nick and Ulrika's
performance
this evening, they talked about the ex-contestants that had re-entered the house over the last few days.
"How come everyone who comes in here says we're really quiet?" Victor asked. Brian replied that he can't think of any Big Brother series that was considered "quiet". Victor added: "But there was always one nutter in there, wasn't there?"
Talk then turned to some of the louder, more controversial housemates in past years, including Shahbaz from Big Brother 7. The group laughed as Brian imitated his famous quote: "Play your part, honey - play your part."
Brian then reflected: "You know how Big Brother contestants always get a bum rap? Because we do, we always do.
"But just think of the genuine nutters that have come down those stairs. Because there was always one! Genuine, genuine nutters!"