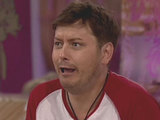 Ulrika and Chantelle gave Brian a spray tan this evening, achieving a rather more intense result than they had intended.
The girls burst out laughing as soon as they saw how orange the former air steward's face had become.
"How does it look?" he eagerly enquired. "Oh my God, he looks like Charlie Sheen!" exclaimed Ulrika.
Brian checked himself out in the mirror and declared: "I'm keeping it."
"Oh my God, no more. It's going to get darker," warned onlooker Nikki. "Yes, in six hours," said an excited Brian. "What's the worst that can happen? I'll be like this for two days. And I like being brown."
"You do look a bit shiny," Preston told him, sitting up in bed to survey the situation. "Oh, I didn't know we were playing this game, Preston. Well, you look ridiculous," he quipped. "This is not even that brown. Do you think this is brown?"
"It's not normal," Nikki admitted. "Every time you turn round it gets darker," laughed Chantelle, as Brian vowed: "If it looks amazing tomorrow we'll do an extra coat."