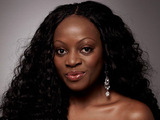 Brian and Ulrika have been talking about Makosi, suggesting that she often comes across as arrogant.
The topic turned to the BB6 villain when Ulrika revealed to Brian that he was one of her favourite housemates of all time and the pair followed by making a point of saying "Thank you" and "You're welcome", referring to Makosi's
mealtime rant
yesterday.
"She knows how beguiling she can be and how beautiful she is," Ulrika commented, before clarifying. "I totally admire that."
Brian was not convinced that Makosi's high opinion of herself should be seen as a positive trait.
"I think with that you've got to be very careful," he said. "There's a fine line between arrogance and modesty."
However, Preston spoke up in defence of Makosi's attitude, noting: "There's a fine line between modesty and just being wet as well. I'd rather I was a bit more confident or whatever."